What Is Your State Searching for on St. Patrick's Day?
Mar 15, 2018 | Share

Brand Guides
We didn't need the luck of the Irish to find an answer—just Google.
St. Patrick's Day is intended to be a celebration of all things Irish, an homage to one of the largest immigrant groups in America
whose heritage deeply influences many cities
. But does America really get the significance of St. Patty's Day? Or is it just an excuse to wear green and prattle on about leprechauns and lucky shamrocks? The team at HighSpeedInternet.com delved into the search data to discover what different states focus on during this cultural holiday. The verdict? America is thirsty—very, very thirsty. We're up for any excuse to hit the bar, including St. Patrick's Day. In many states, the most popular keyword was related to going to the pub and imbibing a little. Okay, maybe more than a little . . . Bottoms up, people!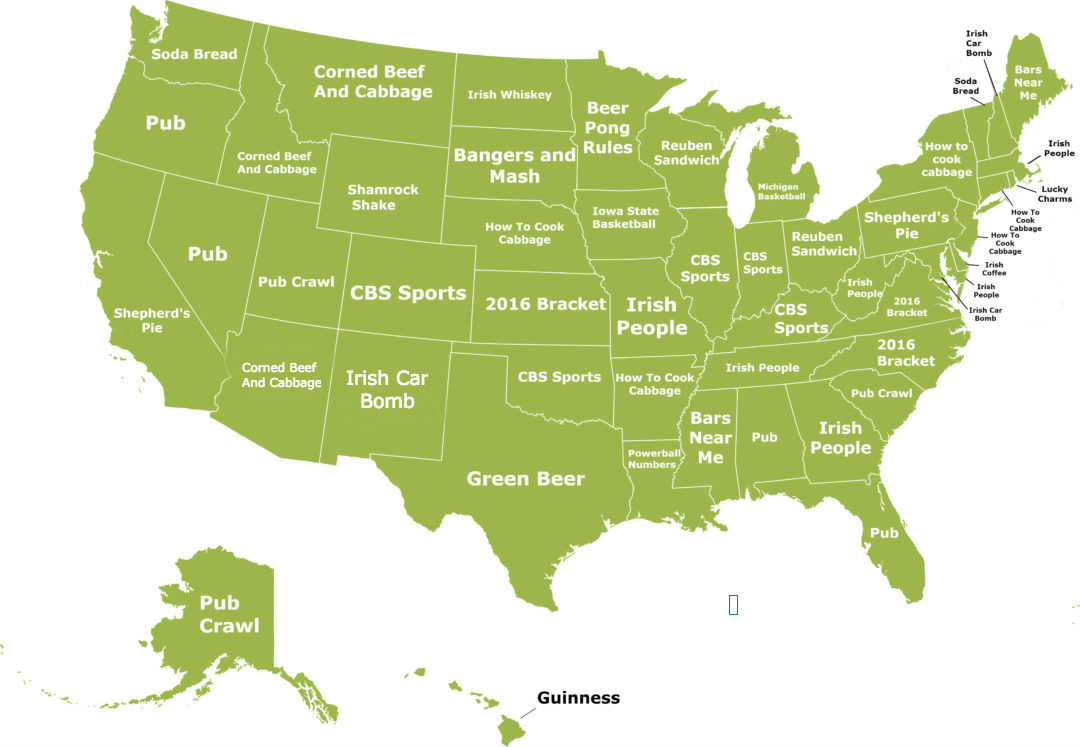 To determine what each state was searching the most last St. Patrick's Day, we analyzed
Google Trends
data and sifted search terms by state. So yes, Massachusetts, the state with
the largest Irish population in the country
, was really googling "Irish people" as if they were still wondering where to find them. Get it together, New England.
Booze and Cruise . . . or Crawl . . .Whatever.
For a large majority of the country, St. Patrick's Day is all about the alcohol. And nowhere was that more apparent than in these locales, which ranked in the top five for booziest states:
Hungry Yet? You Will Be.
If Americans aren't bellying up to the bar on St. Patty's Day, it's because they're already full. Food-themed keywords were a close second in many parts of the country, where residents celebrate by stuffing their plates to overflowing.
Wait. Basketball?
Yep. St. Patrick's Day just happens to coincide with a little March Madness, and we've definitely got the fever. All across the Midwest and the South, the most popular search terms had everything to do with sports. Move over, Ireland. The game's on.
In some states, all bets were off on plans to go to the pub. Virginia, South Carolina, and Kansas only cared about how their 2016 brackets were faring.
Colorado, Illinois, Indiana, Kentucky, and Oklahoma simply had too much skin in the game to tune out CBS Sports last year.
I'm So Confused.
Some states seem decidedly unsure who these Irish people even are and where to find them. Massachusetts, Georgia, Tennessee, Iowa, and Maryland want the "Irish people" to please stand up and identify themselves. Are they leprechauns? Do they have gold? Please help us, Google. These are important questions. And last but not least is Louisiana, number five for
most gambling in the United States
. They're only concerned about one thing on St. Patrick's Day: having the luck of the Irish. Does anybody know the Powerball numbers? You do you, Louisiana. Did you find your state's most-googled St. Patrick's Day term charming? Or embarrassing? Share this with your friends and discuss how not to disgrace yourselves at the pub this year while you're at it. Good luck with that.
| | |
| --- | --- |
| State | Search Term |
| Alabama | Pub |
| Alaska | Pub Crawl |
| Arizona | Corned Beef and Cabbage |
| Arkansas | How to cook cabbage |
| California | Shephards Pie |
| Colorado | CBS Sports |
| Connecticut | How to cook cabbage |
| Delaware | Irish coffee |
| District of Columbia | Irish Car Bomb |
| Florida | Pub |
| Georgia | Irish people |
| Hawaii | Guiness |
| Idaho | Corned Beef and Cabbage |
| Illinois | CBS Sports |
| Indiana | CBS Sports |
| Iowa | Iowa State Basketball |
| Kansas | 2016 Bracket |
| Kentucky | CBS Sports |
| Louisiana | Powerball numbers |
| Maine | Bars near me |
| Maryland | Irish people |
| Massachusetts | Irish people |
| Michigan | Michigan Basketball |
| Minnesota | Beer pong rules |
| Mississippi | Bars near me |
| Missouri | Irish people |
| Montana | Corned Beef and Cabbage |
| Nebraska | How to cook cabbage |
| Nevada | Pub |
| New Hampshire | Irish Car Bomb |
| New Jersey | How to cook cabbage |
| New Mexico | Irish Car Bomb |
| New York | How to cook cabbage |
| North Carolina | 2016 Bracket |
| North Dakota | Irish whiskey |
| Ohio | Reuben sandwich |
| Oklahoma | CBS Sports |
| Oregon | Pub |
| Pennsylvania | Shephards Pie |
| Rhode Island | Lucky Charms |
| South Carolina | Pub Crawl |
| South Dakota | Bangers and Mash |
| Tennessee | Irish people |
| Texas | Green Beer |
| Utah | Pub Crawl |
| Vermont | Soda Bread |
| Virginia | 2016 Bracket |
| Washington | Soda Bread |
| West Virginia | Green Beer |
| Wisconsin | Reuben sandwich |
| Wyoming | Shamrock Shake |